ISSUE 3 JUNE
Book review
Therapeutic Guidelines: Gastrointestinal. Version 6.
Aust Prescr 2017;40:111
1 June 2017
Melbourne: Therapeutic Guidelines Limited; 2016.
269 pages
Also available online at www.tg.org.au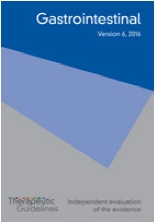 The latest version of the gastrointestinal guideline is concise and practical. In light of new evidence, it has additional sections on topics such as the oral direct-acting antiviral regimens for hepatitis C. There is also helpful guidance on treatment options for irritable bowel syndrome and the different types of food intolerance. There are new sections on parenteral nutrition and more specific information on refeeding syndrome.

In my role as a general practice registrar, I refer to this book almost daily. The information is presented in an easy-to-read format by using tables and summaries. In terms of prescribing pharmacotherapy, the book gives up-to-date doses and duration of use in accordance with current guidelines.
I recommend this updated version to any clinician working in a hospital or the community. The book, although small in size, covers common presentations of gastrointestinal diseases almost completely.
Jennifer Dai
General practice registrar and Associate lecturer, Department of General Practice, University of Sydney, Westmead