COVID-19 vaccination side effects: how to manage and when to report them
COVID-19 vaccinations are an important part of the national strategy to protect our health during the current pandemic and into the future. As with other vaccines, some people may experience mild and temporary side effects after a COVID-19 vaccination.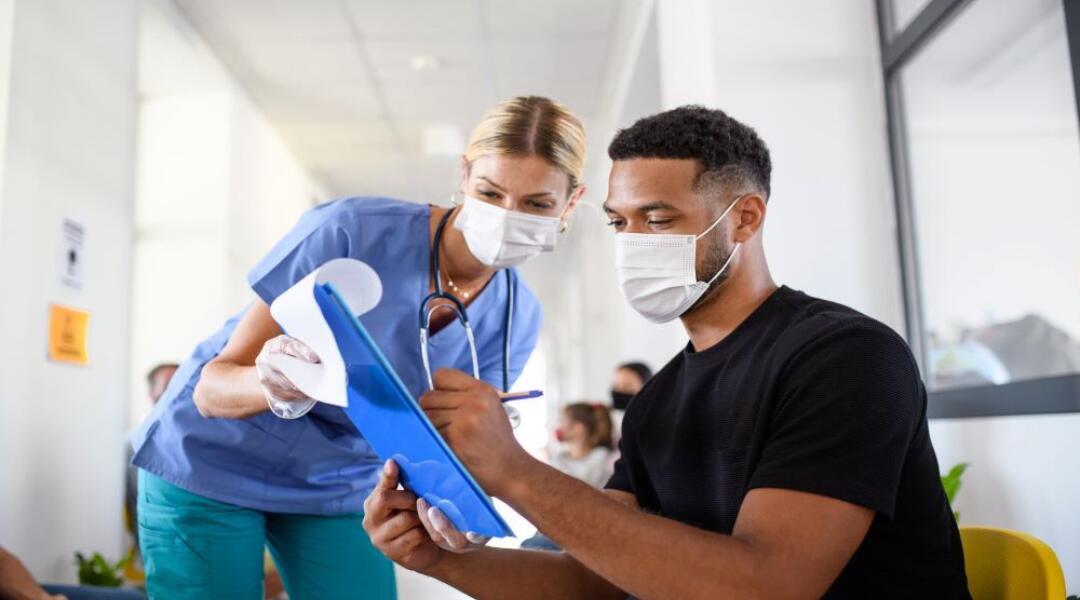 This article explains what to expect, how to manage any symptoms, how to report side effects and why reporting them is an important part of ensuring the safety of all vaccines, including the COVID-19 vaccine.
Updates will continue to be made when new recommendations are announced by the Australian Technical Advisory Group on Immunisation (ATAGI), or when changes to available vaccines are made by the Therapeutic Goods Administration (TGA).
The vaccines
Four vaccines have provisional approval for use in Australia's COVID-19 vaccination rollout program: Comirnaty (Pfizer/BioNTech), Spikevax (Moderna), Vaxzevria (previously COVID-19 Vaccine AstraZeneca) and Nuvaxovid (Novavax).1 COVID-19 vaccines delivered as part of the rollout are free for everyone living in Australia and no consultation fee is charged.

The AstraZeneca vaccine is recommended for people aged 60 years and over*,4 or aged 18 to 59 in outbreak areas if they do not have immediate access to Comirnaty (Pfizer) or Spikevax (Moderna). The mRNA vaccine from Pfizer is recommended for people aged 5 years and over, while the Moderna vaccine is recommended for people 6 months and over. Both types of vaccine are given in two doses, with 3–8 weeks between doses of the Pfizer vaccine, 4–8 weeks between doses of the Moderna vaccine, and at least 12 weeks* between doses of the AstraZeneca vaccine.5
The Novavax vaccine is recommended for people aged 18 years and over, given in two doses 3–8 weeks apart.
Children aged 5–11 years old receive a smaller dose of the Comirnaty (Pfizer) vaccine (one-third the adult dose) compared with older children and adults. Doses are given 8 weeks apart unless advised otherwise by a medical professional.
The age and dose interval recommendations have been made by ATAGI according to current national and overseas evidence. Please note that the age and dose intervals described in the provisional approval documents for these vaccines may be different to the ATAGI recommendations.

The COVID-19 Vaccine Janssen (available as Johnson & Johnson COVID-19 vaccine overseas) and Spikevax Bivalent Original/Omicron (Moderna) have also received provisional approval for use in Australia, but are not part of the national rollout.6,7 No recommendations about the use of the vaccine have been released.
COVID-19 vaccines with provisional approval by TGA for use in Australia.a1
You can read the consumer medicine information (CMI) leaflet for each vaccine by clicking on the name.
Name (company)

Active ingredient

Age group for primary doses

Age group for booster doses

Vaccine type

tozinameran

5 years and over

12 years and over

mRNA

elasomeran

6 months – 5 years (paediatric dose)

6 years and over

18 years and over

mRNA

COVID-19 (ChAdOx1-S) vaccine

18 years and overb

18 years and over

Viral vector

SARS-CoV-2 rS (NVX-CoV2373) COVID-19 vaccine

18 years and over

18 years and over. Current recommendation is to use if no other vaccine is suitable

Protein

Spikevax Bivalent Original/Omicron (Moderna)c

elasomeran/
imelasomeran
18 years and over
18 years and ober
mRNA

Ad26.COV2.S

18 years and over

N/A

Viral vector
a Information correct as at 2 September 2022.
b Although approved for people aged 18 years and over, this vaccine is not preferred for those aged under 60 years.4
c This vaccine is not included in the national rollout.
N/A Not applicable.
ATAGI recommends different vaccines and doses for different ages and population groups.5 The vaccines, and number of doses you receive will depend on factors such as how old you are, if you identify as an Aboriginal and/or Torres Strait Islander person, and if your immune system is not working correctly.

Provisional approval means that the vaccine has met the high standards of safety, effectiveness and quality required for use in Australia.
With this approval the vaccine can be on the Australian Register of Therapeutic Goods (ARTG) for up to 2 years with an option to extend.
Why side effects can happen after vaccination
Vaccines mimic infection and stimulate a person's immune system to produce antibodies against a virus or bacteria, without the person experiencing the actual infection.6 Once a person has the antibodies, their immune system is better able to protect them if they are exposed to that particular virus or bacteria in the future.
On average, it can take up to 14 days after a vaccination for best possible protection to develop.6 This is why people are encouraged to continue practicing COVID-19-safe hygiene (hand washing, physical distancing, mask wearing, etc) after they receive their COVID-19 vaccine.
To make antibodies, the immune system goes through a number of complex steps, including making proteins called chemokines and cytokines that can influence how cells in the body behave.7 These steps are important to the production of antibodies, but they can also lead to common side effects such as raised body temperature (fever), headache, muscle soreness and shivering (chills).
While we may find these signs and symptoms unwelcome and uncomfortable, they are typical responses that show our immune systems are responding to a potential 'threat' and working hard to protect us from further illness. In fact, recent research suggests that some increase in body temperature (such as mild fever) may actually help switch part of the immune system on and assist in the body's response to vaccination.8, 9
Because of this desired immune response, flu-like symptoms can be a side effect of any vaccine and COVID-19 vaccines are no different.
Inflammation is also part of the immune response and can result in local side effects such as swelling, redness or pain at the injection site.7 These signs and symptoms are often called injection site reactions if they occur after a medicine (eg, insulin) or a vaccine has been given. They are the same signs and symptoms you would experience after a mosquito bite for example.
Watch a video from the World Health Organization about why some people have side effects after vaccination
Mild fever, muscle aches, tiredness or inflammation are common ways for your body to indicate it is having an immune response to something in your environment. They are also common signs and symptoms that people may experience following vaccination.
Not everyone responds the same way
It is also important to realise that not everyone experiences a disease in the same way.
Using COVID-19 infection as an example, we have seen some people hardly affected at all, some people experiencing mild symptoms, and others experiencing severe symptoms requiring hospital admission. There are many reasons why people respond differently to the same disease – age, general health, gender and previous immunity may all contribute.6,10
In the same way, there will be a range of responses to a particular vaccine, with some people having few or no signs or symptoms, and others experiencing some or many.
General information on vaccines from the Department of Health explains what to expect after a vaccination, and the rare cases when medical attention is needed. It also explains when to report side effects. The TGA has been collecting and reviewing these reports of side effects for many years as part of its work ensuring the safe and effective use of medicines in Australia.
You can contact the NPS MedicineWise Adverse Medicine Events Line on 1300 134 237 (Monday to Friday, 9 am to 5 pm AEST/AEDT) if you have questions about vaccines or medicines, or if you experience unwanted signs or symptoms that you think may be linked to a medicine or vaccine and would like to report reactions to the TGA.
Possible side effects of COVID-19 vaccines
With the current focus on COVID-19 vaccines, Healthdirect Australia has developed the COVID-19 vaccine side effect checker to help you decide what to do if you have side effects after a COVID-19 vaccination, ranging from common flu-like symptoms to rare cases when medical attention is needed.
Mild side effects
Evidence from clinical trials, along with national and international databases, show that most side effects being reported after vaccination with COVID-19 vaccines are mild and temporary (lasting only a few days).11-14
As of August 2022, most people receiving a COVID-19 vaccine in Australia (as primary or booster doses) have an mRNA vaccine; either Comirnaty (Pfizer) or Spikevax (Moderna).15
The Australian Government TGA closely monitors all reports made to them about possible side effects from any medicine or vaccine that is approved for use in Australia.
From these reports the most common side effects likely to be linked to the vaccines are headache, muscle and joint pain, fever, chills and nausea. Skin reactions at the site of the injection are also common and can include pain, swelling, redness and an itchy rash.15 These mild and temporary side effects are also being reported in clinical trials around the world.
People can find out more about how the TGA continues to check on the safety of these vaccines through their COVID-19 vaccine safety monitoring and reporting page.
What you can do to manage mild vaccine side effects
Mild side effects from a vaccine can usually be managed with:
rest
plenty of water (especially if there is mild fever)
comfortable clothing (especially if there is mild fever)
simple pain-relieving medicine such as paracetamol or ibuprofen (if the pain or fever is uncomfortable and stopping you from doing day-to-day activities).
Before taking any medicine, check the active ingredients are safe to take with any medical conditions you have, other medicines you are taking, or if you are pregnant or breastfeeding.
You can find out more about active ingredients here.
When to get medical attention
New, unexpected or persistent symptoms
Speak with a health professional if you:
are worried about a potential vaccine side effect
have new or unexpected symptoms
have an expected side effect that hasn't gone away after a few days.
The COVID-19 vaccine side effects symptom checker can help and you can contact the Adverse Medicine Events line for information about side effects and to forward reports to the TGA. The service is, however, unable to provide medical advice.
Symptoms more than 4 days after vaccination
Myocarditis (inflammation of the heart) and pericarditis (inflammation of the membrane around the heart) are rare side effects that typically occur within 10 days of vaccination with the Pfizer or Moderna mRNA vaccines. Most people get better within a few days.15
Myocarditis and pericarditis symptoms include chest pain, palpitations (irregular heartbeat), fainting or shortness of breath, and usually occur within 1–5 days of vaccination.
Seek medical attention if you experience any of these symptoms.
At the time of this update the TGA has received 665 reports of symptoms likely to be myocarditis from about 43.4 million doses of Comirnaty (Pfizer) and 104 reports of symptoms likely to be myocarditis from about 5.2 million doses of Spikevax (Moderna).15
The TGA vaccine safety reports provide regular updates on myocarditis and pericarditis cases from mRNA vaccines.

Severe allergic reactions
Serious but extremely rare side effects to vaccines – including the COVID-19 vaccines – can include allergic reactions. If an allergic reaction is going to happen it will usually occur within 15 minutes of receiving a vaccine, which is why you should wait this amount of time before you leave the vaccination centre.
Seek medical attention if you think you are having an allergic reaction and call 000 if the symptoms are severe, such as if you have difficulty breathing, start wheezing, have a fast heartbeat or feel like you may be about to collapse.
Reporting adverse events
All vaccines available for prescription in Australia have to undergo approval and regulatory processes. These processes are conducted by the TGA to make sure the vaccine is safe for human use and of the highest quality.16
The reporting of side effects, also known as adverse events, is an important way the TGA can identify previously unknown safety issues, including situations when a vaccine should not be used and interactions with medicines or other vaccines.16
How to report an adverse event
You can report adverse events to your healthcare provider and ask them to report on your behalf, or you can report to the NPS MedicineWise Adverse Medicine Events Line on 1300 134 237 (8 am–8 pm AEST/AEDT 7 days a week). Alternatively, you can report to your State or Territory health department or directly to the TGA.
Visit the TGA's COVID-19 vaccine page for more information.
Why do we need to report adverse events?
Any vaccine, including the COVID-19 vaccines, is only approved when it meets high quality standards and has been shown in clinical studies of sufficient size and rigour to be safe and effective. NPS MedicineWise has more information about clinical trials, why they are important and their role in the approval of medicines and vaccines for use in Australia.
Clinical trials are a very important part of understanding the effects and the safety of a medicine or a vaccine, but they cannot detect all possible harms:
They will not be able to detect adverse events that take longer to develop than the length of the trial.
A very rare adverse event may not be detected if it is so rare that it didn't happen to anyone in the trial.
Also, some population groups (like children, older people, pregnant women, people with specific health conditions) may have been excluded from taking part in the clinical trial, and so any adverse effects that only occur in these groups would not be known from the clinical trials.
What to report and what happens to the information
Adverse event reporting is an important way the TGA continuously monitors and evaluates the safety and effectiveness of vaccines to add to what we know from clinical trials.
For example, the link between the AstraZeneca COVID-19 vaccine and extremely rare cases of TTS was identified as a result of the high-quality adverse event reporting systems in Australia and overseas. This information led to effective treatments and helped raise awareness and early diagnosis. So most people who experienced TTS were able to recover. This is how adverse event reporting systems work to help protect the public.
If you or your doctor think a COVID-19 vaccine has caused a side effect, especially if it is unexpected or significant, you are encouraged to report it.
The TGA is particularly interested in reports of the vaccine interacting with a medicine, any adverse effects that are not already known, any serious health outcomes or any adverse reactions that lead to further investigation.
Each adverse event report is entered into the Australian Adverse Drug Reaction System (ADRS) database.
If a particular adverse event is reported a number of times, it may be flagged for further investigation and prioritised according to risk. If identified as a safety risk, the TGA decides what action to take. Depending on the impact on public health, the TGA may issue safety alerts to health professionals and the public. It may also remove the vaccine from use or restrict the people who can use it.17
As well as adverse event reporting, the TGA monitors the latest clinical studies and scientific reports, undertakes testing, and works with regulators from other countries (like the US Food and Drug Administration) to identify any new potential safety issues.
Shared responsibility
The rollout of COVID-19 vaccines in Australia continues to play a key role in protecting our health as new COVID-19 variants appear.
The reporting of potential adverse events after vaccination is part of the way we make sure we get the most benefit out of vaccines safely. Pharmaceutical companies, public and private health service organisations, health professionals, carers and consumers all have a role to play. The transparent way this is done is important to maintain trust in the vaccines. Trust, in turn, is important to ensure as many people as possible choose to be vaccinated, providing the best possible protection against COVID-19 for the Australian population.
Shared responsibility in action
Since the Australian COVID-19 vaccine rollout began in February 2021, key experts working with groups such as the TGA and ATAGI have been constantly monitoring reported side effects - both mild and more serious. This information, combined with data emerging from international experience, has been used to make sure recommendations about the use of available COVID-19 vaccines balances any potential risk from vaccination against the need to protect individuals and the community against the ongoing threat of COVID-19.

Where can I find more information?
Information about COVID-19 vaccines
Information about vaccines and adverse events