I'm up to date with COVID-19 vaccination – what now?
So, your COVID-19 vaccinations are up to date. Find out more about what this means and how much risk you face from the COVID-19 virus and its variants. The information in this article reflects current evidence and may change as more becomes known about current and new vaccines, as well as emerging variants.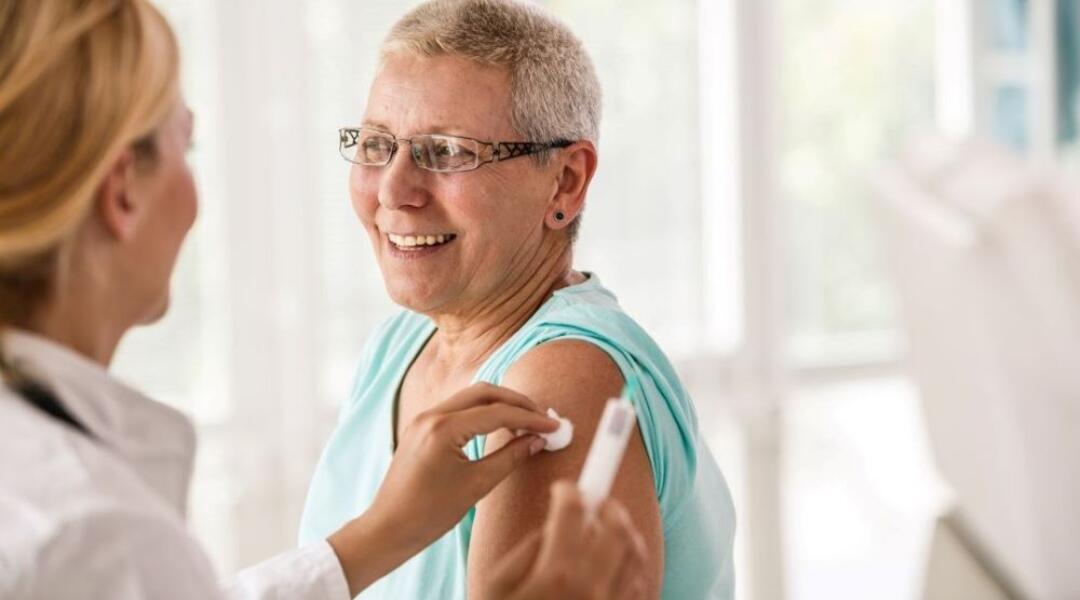 Please note: Information, evidence and advice relating to COVID-19 is constantly changing. The information in this article was correct at the time of writing.
What does being up to date involve?
In Australia right now, being up to date with COVID-19 vaccines means you have completed all the doses recommended for your age and individual health needs.1-3 It takes up to 2 weeks after your second dose for your body to build protection (immunity) against the virus.4
The following vaccines are currently provisionally approved for use in Australia:5
COMIRNATY – Pfizer
VAXZEVRIA – AstraZeneca
SPIKEVAX (elasomeran) – Moderna
SPIKEVAX Bivalent Original/Omicron (elasomeran/imelasomeran) – Moderna (note that this vaccine is not included in Australia's vaccine rollout)
NUVAXOVID – Novavax

COVID-19 Vaccine Janssen – Janssen-Cilag (note that this vaccine is not included in Australia's vaccine rollout).
Provisional approval means that the vaccine has met the high standards of safety, effectiveness and quality required for use in Australia. This allows for temporary registration and inclusion on the Australian Register of Therapeutic Goods for up to 2 years, with an option to extend provisional registration beyond this initial period.6
Find out more about vaccines and COVID-19.
The Australian Government Department of Health also has information on approved COVID-19 vaccines.
You can download the Approved Product Information or the Consumer Medicine Information for COMINARTY, VAXZEVRIA, SPIKEVAX, SPIKEVAX Bivalent Original/Omicron, NUVAXOVID and COVID-19 Vaccine Janssen from the Therapeutic Goods Administration website.
As of 1 November 2021, the following vaccines (in addition to all provisionally approved vaccines listed above) are recognised for the purpose of travel to Australia:7
CoronaVac (Sinovac)
Covishield (AstraZeneca – Serum Institute of India)
BBIBP-CorV for people aged 18–60 years of age (Sinopharm)
Covaxin (Bharat Biotech).
A booster dose is an extra dose of a vaccine, given after the primary course. To be up to date with COVID-19 vaccination, booster doses are recommended for people aged 16 years and over.8
Find out more about advice on COVID-19 booster doses.

How does being up to date with COVID-19 vaccination protect me?
Completing all the recommended vaccine doses gives you the best protection against getting seriously ill or dying from COVID-19. Vaccines train your body's immune system to recognise and remove the virus before it can make you seriously ill. Your immune system builds this protection over time.9
You are fully vaccinated if you have had two doses of the same vaccine. Booster doses are currently recommended if you are aged 18 years or older and it has been at least 4 months since your second dose.10 This includes people who are pregnant, and severely immunocompromised people who have received a third dose as part of their primary course.9 As soon as it is practical, booster doses are recommended for all eligible adults from a minimum of 3 months following completion of the primary course.
Booster doses are common for other vaccines,11 and this may also become the case for COVID-19 vaccines. It is not yet known how long protection will last following vaccination against COVID-19.12
For more about the future of possible booster or seasonal COVID-19 vaccines, read our article.
Can I still get infected with COVID-19 if I'm up to date with my vaccines?
Vaccines are effective at stopping most people from getting sick and dying due to COVID-19, but they do not provide full (100%) protection. Even if you are fully vaccinated, there is still a chance you can get infected. Breakthrough infections – where people get the virus despite being fully vaccinated – may still occur. However, you are much less likely to get seriously ill than unvaccinated people who get COVID-19.13

Studies show that fully vaccinated people with breakthrough infections, including infection with the Delta variant, are less likely to:14,15
develop symptoms
develop severe COVID disease requiring oxygen supplementation
require hospitalisation.
More data is required on the effectiveness of vaccines against infection with the Omicron variant.10 Effectiveness describes how well a medicine or vaccine works when it is being used in real life, rather than as part of a trial.
If I'm infected, what's my risk of serious illness, death and long COVID?
A study investigating the COVID-19 vaccine effectiveness against the Delta variant shows that provisionally approved vaccines in Australia have moderate to high effectiveness against infection and high effectiveness against serious illness and hospitalisation. Effectiveness was found to be 63% against infections without symptoms, 76% against infections with symptoms and 91% against hospitalisation.16

If you are fully vaccinated and get a breakthrough infection, you are half as likely to develop lingering symptoms of COVID-19, sometimes referred to as long COVID, compared to people who are unvaccinated.17 The most common lingering symptoms are:18

fatigue
shortness of breath
loss of, or reduced, sense of smell and/or taste
chest pain
lack of sleep
headaches.
Can I still spread COVID-19?
Even if you are fully vaccinated, you can still spread COVID-19. Studies show fully vaccinated people with breakthrough infections have similar peak viral loads (highest amount of virus in the system) to unvaccinated people.19 However, fully vaccinated people clear the virus faster15 and reduce the overall number of infections.20 This means they have less time with high levels of the virus in their system and less opportunity to spread the virus overall.

Your risk of spreading the Delta variant of COVID-19 is reduced by 86% if you have had two doses of AstraZeneca's vaccine, or 93% if you have had two doses of Pfizer's vaccine.21
Do I need to get tested if I have COVID-19 symptoms?
You should get tested for COVID-19 as soon as possible if you have cold or flu-like symptoms, even if they are mild. These symptoms may include a cough, fever, shortness of breath or runny nose.18 It is still possible to catch COVID-19 even if you are fully vaccinated and you may still spread the virus (even if you have mild symptoms) to other people, both fully vaccinated and unvaccinated.22 Getting tested will help stop the spread of COVID-19.18

If you are sick and think you may have symptoms of COVID-19, seek medical advice and get tested.18
Contact the National Coronavirus Helpline on 1800 020 080 for advice.
Find out more about COVID-19 symptoms and how to get tested.
If I'm infected, what do I do?
If you are infected or suspect you may be infected, you must go into isolation, even if you are fully vaccinated or feel well. You must stay in isolation until your state or territory public health authority advises you that it is safe to leave isolation. Monitor your symptoms and contact your doctor if you experience worsening symptoms, such as a high fever or trouble breathing.23

Find out more about how to protect yourself and others, including how to isolate if you need to.
Do I still need to wear a mask?
Wearing a mask can help protect you and those around you from COVID-19,24 including people who are unable to get vaccinated, such as young children.25 Even if you are fully vaccinated, you may still need to wear a mask in certain places, such as in indoor areas or on public transport.3

You may not be aware you are infected with COVID-19 if you have mild or no symptoms. Wearing a mask can reduce your risk of spreading the virus to those around you. It can also reduce your risk of getting COVID-19 when in contact with an infected person.26
When there is low community transmission of COVID-19, wearing a mask when you are well is not generally recommended. Follow the advice from your state or territory, which is guided by the level of transmission and the need to stop the spread of infection.26
Why are restrictions put in place?
Australia's federal, state and territory governments have put restrictions in place to slow the spread of COVID-19. This may include restrictions on types of gatherings, activities, business and travel.27

Check the restrictions in your state or territory to find out what you can and can't do.
The Australian Government may enforce border security measures to protect you from new variants of COVID-19, such as the Omicron variant. State and territory health departments are working hard to prepare their health systems for increases in case numbers, should this occur.28
What's the difference between protection from a previous infection and vaccination?
If you are infected with COVID-19, you may become immune to it in the future. This is called natural immunity.29 However, natural immunity may be short-lived, with COVID-19 reinfection likely to occur between 3 months and 5 years. Vaccination is still necessary as a previous infection alone does not offer long-term protection against subsequent infections.30

On the other hand, vaccines produce an immune response in your body without causing illness. They strengthen your immune system by training it to recognise and fight COVID-19, so when you do get infected, you are protected from getting seriously ill.29
Antibody or serology tests can indicate whether you have had past exposure to COVID-19. The detection of antibodies does not necessarily mean you have immunity to COVID-19. As it may take up to 2 weeks or more for your body to produce antibodies after an infection, the tests cannot detect when you are infectious.31

You can still be vaccinated with a COVID-19 vaccine even if you have been infected in the past. Vaccination may be deferred for up to 6 months, as a past infection may reduce the chance of reinfection for at least this amount of time. However, there is no requirement to delay getting vaccinated.32
You should not be vaccinated until you have recovered from the COVID-19 short-term illness. If you test positive for COVID-19 between your first and second dose, you should not receive your second dose until you have recovered from the short-term illness.32
Am I protected against future variants?
All viruses, including COVID-19, change over time through mutations.33 A mutation is a single change in the virus's genetic code.34 These mutations are called variants of the original virus. At times, these changes can affect the virus's properties, such as how easily it spreads or how well a vaccine protects you against it.33 This is already the case with the flu virus, which is constantly changing, requiring flu vaccines to change accordingly every year.35
The World Health Organization (WHO) has identified five COVID-19 variants of concern:33
Alpha
Beta
Gamma
Delta
Omicron.
It is not yet known how effectively vaccines will protect you against new variants that may arise. However, there are continuing studies to assess how vaccines work under real-world conditions. These are known as vaccine effectiveness studies. So far, these studies have shown that vaccines are working well.36-38
While research suggests vaccines are slightly less effective against the Delta variant compared to the Alpha variant, they still protect you from getting seriously ill or dying from COVID-19.37,38 Vaccine effectiveness against mild outcomes was reduced by 10–20% compared to the Alpha variant, but fully maintained against severe COVID-19.16
Current public health measures such as getting vaccinated, frequent hand washing, wearing a mask and physical distancing continue to work against new variants. These measures reduce the potential for the virus to spread and decrease opportunities for it to mutate.39
Find out more about the latest updates on COVID-19 variants on the WHO website and the Omicron variant on the Department of Health website.
Where can I find more information?