Influenza vaccines and COVID-19
This year, with all the focus on the COVID-19 vaccine booster, it's easy to forget about another important vaccine – your annual flu jab. Regardless of the season, it is important to take action to be protected against both of these potentially severe infections.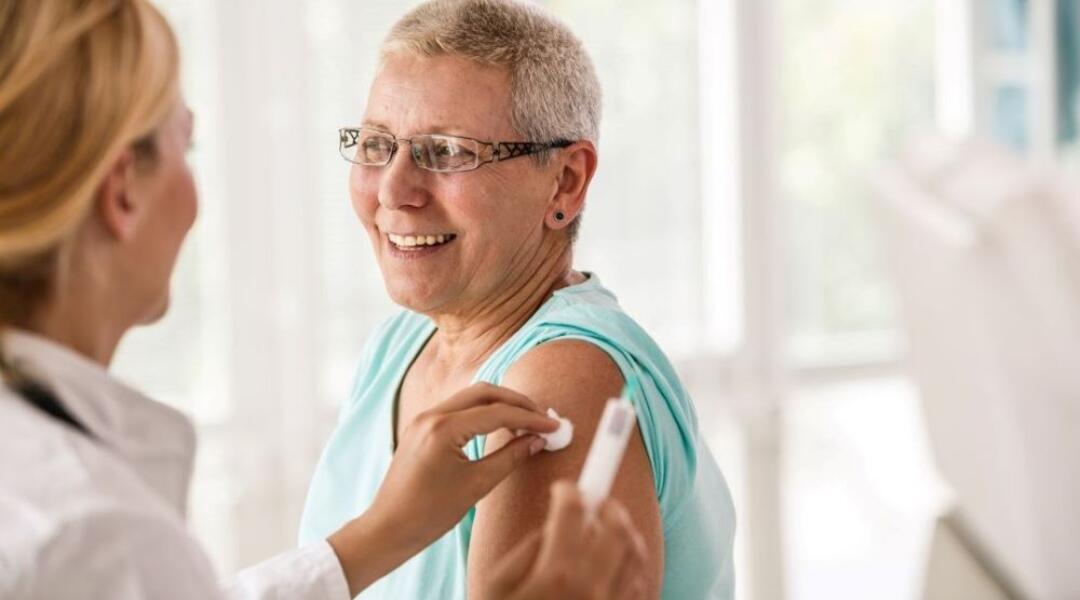 What do we know about the 2022 flu season?
A person can be infected with influenza (flu) at any time of the year. But in Australia flu infections tend to be more common between June and September. This is what is referred to as the 'flu season'.
In 2021, fewer Australians were diagnosed with influenza than in previous years.1,2 Physical distancing and hygiene measures put in place to slow COVID-19 transmission likely also slowed the spread of other infectious diseases, including influenza.3 In 2022, with borders reopening and people moving about, including those who have recently returned from overseas, more than 212,000 notifications of laboratory-confirmed influenza have been recorded.
The flu can cause serious illness, particularly among those at high risk, such as the elderly.
The same is true for COVID-19 infections in the Australian community. Public health advice about maintaining physical distance, wearing masks and practicing good hygiene have helped keep community levels of transmission low. But outbreaks have occurred and will continue to do so as long as the SARS-CoV-2 virus (that causes COVID-19 infections) is around.
As with influenza vaccinations, having a COVID-19 vaccination provides an extra level of protection against being infected and also helps slow the spread of infection to others who may be more vulnerable to severe complications.
Do I need a flu vaccine this year?
The flu is caused by influenza viruses of types A, B, C or D.4 Most flu-related illnesses are caused by influenza type A or B viruses. Influenza viruses are constantly changing parts of their genetic code (through mutations).
Over time a virus may become different enough that it is no longer recognised by a person's immune system. This increases the chance of infection and of this variant being passed on to other people to become the dominant strain causing illness.
Constant mutation means that the dominant strain one year may not remain the dominant strain in following years.5 This is why the influenza vaccines change each year – to better match the likely strains causing infection. It is also why people are advised to have a flu jab every year – so they can produce the antibodies best matched to defend against the influenza viruses currently in circulation.
Whether you have had flu previously or have had an influenza vaccination in the past, current evidence suggests that any antibodies you made will become less protective with time.5 This may be because the level of antibodies in your body declines, or because the antibodies you have do not work against the influenza types currently causing infection.
In Australia, the influenza vaccine rollout is guided by advice from the World Health Organisation (WHO). It recommends which influenza strains should be included in the next season's vaccines, based on analysis of recent flu seasons.5
These recommendations are made in September for countries in the southern hemisphere. The Australian Influenza Vaccine Committee meets with the Therapeutic Goods Administration to consider the WHO recommendations and confirms the strains to be included in Australian flu vaccines.6
This year, five quadrivalent influenza vaccines have been approved for use in Australia.7,8 Quadrivalent flu vaccines protect against four of the most common influenza strains currently causing infections.
A note about effectiveness
The level of protection provided by a flu vaccine can vary according to a person's age, any health conditions they have, how much flu virus is circulating in the community and how good a match the vaccine is for the virus strains that are the most prominent for that season.4
That said, influenza vaccinations are a major strategy in reducing the number of people who are infected with influenza during the year and clinical findings suggest if someone does become infected, the severity of an infection will likely be much reduced after immunisation.8
Does age matter with flu vaccines?
Although there are multiple influenza vaccines available, they are not all for general use.
Each year ATAGI makes recommendations on the influenza vaccines that are appropriate for each age group. These recommendations are informed by clinical trials, information gathered once the vaccines are in use, and data collected from WHO.
Certain age groups are particularly vulnerable to the flu and have higher rates of complications and hospitalisations. That is why some flu vaccines have age restrictions, as they are designed to boost the immune response in those most vulnerable (eg. Fluad Quad, which is specifically for adults aged over 65 years).
The Australian Government has set aside millions of influenza vaccine doses as part of the National Immunisation Program (NIP). The NIP provides these doses for free to people in our community who are most at risk from complications if they are infected with influenza.
Age group

Influenza vaccine funded under NIP

Children between the ages of 6 months and 5 years

Vaxigrip Tetra

Fluarix Tetra

People between the ages of 5 years and 65 years who have specific medical conditions

Vaxigrip Tetra

Fluarix Tetra

Afluria Quad

Aboriginal and Torres Strait Islander people aged between 5 years and 65 years

Vaxigrip Tetra

Fluarix Tetra

Afluria Quad

People who are pregnant

Vaxigrip Tetra

Fluarix Tetra

Afluria Quad

People aged 65 years and over

Fluad Quad
People who are not eligible for a flu jab through the NIP can arrange to receive their vaccination through their GP or another recognised immunisation provider. In all cases there may be costs involved if a consultation is needed. It is wise to check about costs before going to have your vaccination, even if you think you are eligible under the NIP.
A summary statement about the influenza vaccines available for use in Australia in 2022 is available from ATAGI.
If you have any questions about which flu vaccine is best for you, speak to your trusted health professional or call the National Immunisation Information Line on 1800 671 811 for general advice and information about immunisation, Monday to Friday from 8:30 am to 5 pm Australian Eastern Standard Time.
You can also use the NPS MedicineWise Medicine Finder to read, download or print the Consumer Information Leaflet for each of these vaccines.
Will COVID-19 vaccinations be seasonal like the flu vaccine?
COVID-19 has been around since 2019. A lot of research has been conducted on the SARS-CoV-2 virus, including the development of almost 300 different vaccines (some at laboratory phase, other in trial phases).9 We have also seen a number of variants emerge as the SARS-CoV-2 virus undergoes natural changes to its genetic code (mutations).10
Clinical trials are underway to understand how effective the currently available COVID-19 vaccines are against variant strains of the SARS-CoV-2 virus. Some early or preliminary reports suggest that the vaccines can still protect against infections caused by variant strains but not as well as they do against the original SARS-CoV-2 virus.11-15 Some companies are already working on new vaccines that better target variants, so it is possible that booster or seasonal COVID-19 vaccines may be recommended in the future if variant strains continue to emerge.
It is still unclear how long immunity lasts after COVID-19 vaccination. Natural immunity may be short-lived, with reinfection of COVID-19 likely to occur within 3 months.16 Ongoing studies for the mRNA vaccines by Pfizer and Moderna have reported immunity from the virus lasting 6 months after a second dose.17,18 Effectiveness against severe illness and hospitalisation waned 4 months after a booster dose of a mRNA vaccine.
In Australia, five of the most extensively tested and studied vaccines have provisional approval for use: Comirnaty (Pfizer); Vaxzevria (AstraZeneca; previously COVID-19 Vaccine AstraZeneca; ChAdOx1-S); COVID-19 vaccine Janssen (Janssen-Cilag); Spikevax (Moderna); and Nuvaxovid (Biocelect on behalf of Novavax).
The current expert clinical recommendation is that most people need two doses of the COVID-19 vaccine (primary course) plus boosters, as recommended for their age and immune status. Boosters are important to maintain protection against COVID-19. You cannot mix vaccines in your primary course, unless you have experienced a severe reaction from the first dose. Needing multiple doses is common for many other vaccines that people may also receive during their lifetimes.
If I get the COVID-19 vaccine, do I still need a flu jab?
Yes. A flu vaccine will not protect you against COVID-19. A COVID-19 vaccine will not protect you from being infected with the flu.
Influenza and COVID-19 are both viral infections that affect the respiratory (breathing) system. But they are caused by different viruses. COVID-19 is caused by the coronavirus SARS-CoV-2. Influenza is caused by influenza viruses.
The vaccines being developed against COVID-19 are specific to the SARS-CoV-2 virus. These vaccines trigger your immune system to make antibodies that are specific to the SARS-CoV-2 virus. These antibodies cannot work against any other type of virus.
Flu vaccines are developed to target the types of influenza viruses that are likely to be most common in the approaching flu season. A flu vaccine can trigger your body to create antibodies to fight influenza viruses. It will not help trigger an immune response to SARS-CoV-2.
COVID-19 and the flu are both highly contagious diseases. The best way to prevent the spread of either infection is to get vaccinated. You should also continue to practice good hygiene (washing hands regularly, coughing and sneezing into a tissue or your elbow etc) and physical distancing to protect yourself and others – especially those who are unable to be vaccinated against one or both of these diseases.
Can I get both vaccines at the same time?
Snapshot of the influenza and COVID-19 vaccines in 2022
Influenza vaccines

COVID-19 vaccines

Virus targets

Common circulating strains of influenza type A and type B.

SARS-CoV-2

Who is it approved for?

Approved flu vaccines are available for most people aged 6 months and older.

The Pfizer vaccine (COMIRNATY) is provisionally approved for people aged 5 years and older.

The AstraZeneca vaccine (VAXZEVRIA) is provisionally approved for people aged 18 years and older.

The Moderna vaccine (SPIKEVAX) is provisionally approved for people aged 6 years and older, or for those aged 6 months to 5 years with severe immunocompromise, disability, and those who have complex and/or multiple health conditions which increase the risk of severe COVID-19.

The Biocelect vaccine (NUVAXOVID on behalf of Novavax) is provisionally approved for people aged 12 years and older.

The COVID-19 Vaccine Janssen is provisionally approved for people aged 18 years and older. This vaccine is not part of the national roll out.

Are there costs?

Vaccines given through the NIP are free.

Vaccines given outside the NIP will have a charge.

Immunisation providers may have a separate consultation fee.

COVID-19 vaccines are free for everyone living in Australia.

No consultation fee will be charged.

Can I choose the brand?

Not all brands are available or suitable for all age groups (refer above).

If there is more than one brand suitable for you, selection may depend on the supply available and the advice of your vaccine provider.

Not all brands are available for all age groups.

Currently:

This could change as more information becomes available or if new vaccines are approved for use in Australia.

Is this an annual vaccine?

Yes

We don't know yet.

More clinical information is required to determine vaccination frequency.

How many doses?

One dose – for most people.

Young children aged 6 months to 9 years receiving their first vaccination may require two doses, 4 weeks apart.4

People who have recently had a haematopoietic stem cell transplant or solid organ transplant require two doses 4 weeks apart, in the first year after transplant.

Two doses – for most people (ATAGI recommends three doses of an approved COVID-19 vaccine for those who are severely immunocompromised).


ATAGI recommends first booster doses of COVID-19 vaccine for all Australians aged 16 years and above. Some adolescents aged 12-15 years may also receive a booster dose.

Booster doses are available for those:

aged 12–15 years who are severely immunocompromised, or with a disability with significant complex health needs, or with a severe, complex of multiple health conditions that increase the risk of severe COVID-19
16 years and older, and
who completed their primary course at least 3 months ago.

An additional booster (winter booster dose) is recommended for people at increased risk of severe illness, to be given 3 months after their first booster dose.

ATAGI recommends the additional booster dose if you are:

50 years or older
16 years or older and a resident of an aged care or disability care facility
16 years or older and severely immunocompromised
Aboriginal or Torres Strait Islander and aged 50 years and older
16 years or older with a medical condition that increases the risk of severe COVID-19 illness
16 years or older with a disability.

People aged 30–49 years old can receive a fourth dose if they choose.

Find out more about COVID-19 booster doses here.

When can I expect immunity after my injection(s)?

About 2 weeks after the injection.4

Immunity starts building after the first dose. Best possible protection starts between 1 and 2 weeks after the second dose is given.22,23


What about side effects?

Most side effects to the influenza vaccine are mild and temporary (lasting less than a week).

Common side effects include:

pain, redness, swelling or hardness where the needle went in (also described as injection site reaction)
fever, tiredness, general body aches.4

Most side effects to the COVID-19 vaccines are temporary and can be managed with rest and over-the-counter pain medicines.

Commonly reported side effects include:

headaches,
muscle and joint pain,
fever
nausea and
injection site reactions.22, 23

Current reports are that these symptoms are more common after the first dose of the AstraZeneca vaccine, and after the second dose of the Pfizer vaccine.24,25

A serious but very rare blood clotting syndrome has been reported following the first dose of the AstraZeneca vaccine. This condition is called thrombosis with thrombocytopenia syndrome (TTS).

In response to this safety concern, ATAGI recommends that the Pfizer vaccine be preferred over the AstraZeneca vaccine in people aged under 50 years.

Where can I find more information?
Information about flu vaccines
Information about COVID-19 vaccines
Information about vaccines and adverse events