Why tackle neuropathic pain now? 
Neuropathic pain is a complex and challenging condition. Increasing use of pregabalin has raised questions about its diagnosis and treatment. Find out more.
Is pregabalin being prescribed for pain other than neuropathic pain? Is it being used according to guidelines and the best available evidence? Once prescribed, are patients receiving optimal benefit?
Providing health professionals with answers to these questions is essential for ensuring accurate diagnosis, appropriate prescribing of neuropathic pain medicines and improved quality of life of patients with neuropathic pain.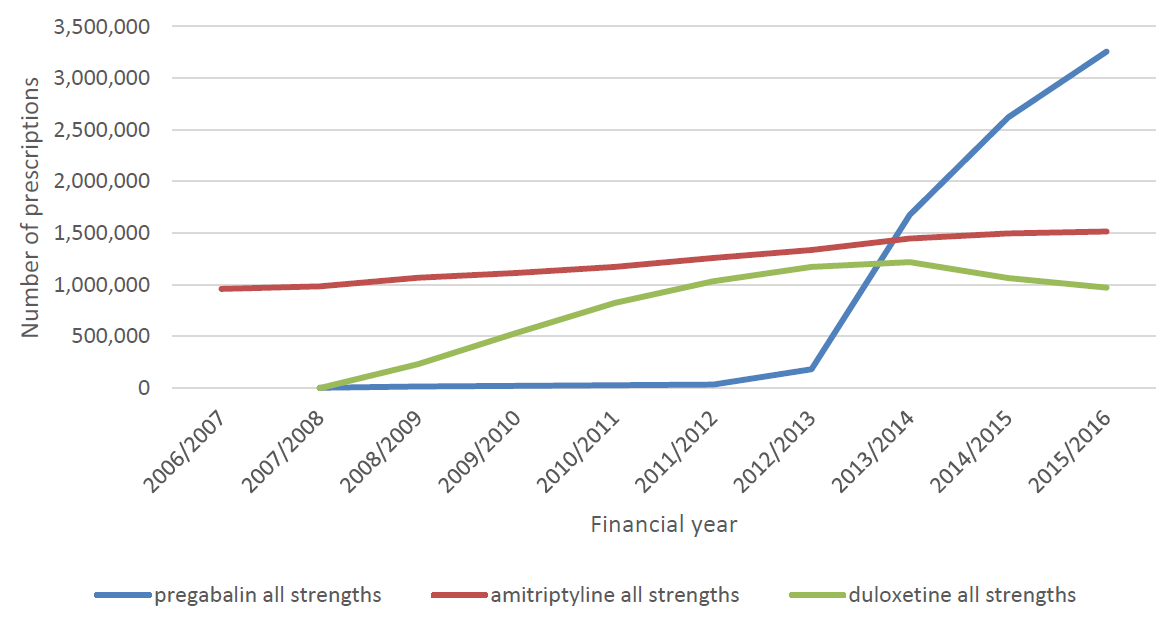 Figure 1: PBS prescription volumes for pregabalin, amitriptyline and duloxetine, July 2006 to Jun 2016.1
The number of pregabalin prescriptions in Australia was turbocharged when it was PBS-listed in March 2013. From fewer than 200,000 prescriptions in 2012–13, it leapt to 3.26 million in 2015–16 and 3.61 million in 2016–17.1
A 2015 Drug Utilisation Sub-committee (DUSC) report on the first 2 years after pregabalin's PBS listing found that the number of prescriptions was much higher than predicted. It suggested that prescribing for pain other than neuropathic pain may have been a contributing factor.2
Prescribing pregabalin for non-neuropathic low back pain (LBP) has been a standout concern. This may be happening due to misunderstanding of neuropathic pain among prescribers, as well as the effects of advertising.3 It's also been suggested that pregabalin is being used for many types of acute and chronic non-neuropathic pain, such as osteoarthritis, in a desperate move to get patients off opioids.4
Achieve optimal benefit
Another concern with the pharmacological management of neuropathic pain is that the optimal benefits of neuropathic pain medicines are not being achieved. The 2015 DUSC report found, for example, that the discontinuation rate for pregabalin was 44%. This was nearly twice as high as expected.2
Rather than adverse effects being the cause, it suggested that the starting doses being prescribed may not have been adequate, leading to a lack of effect. It also highlighted a knowledge gap among prescribers on reaching maximum effective dose, including the need to up-titrate and allow an adequate trial period.2