Vaccines and COVID-19
We answer some of your questions about COVID-19 vaccine development | Updated 16 October 2020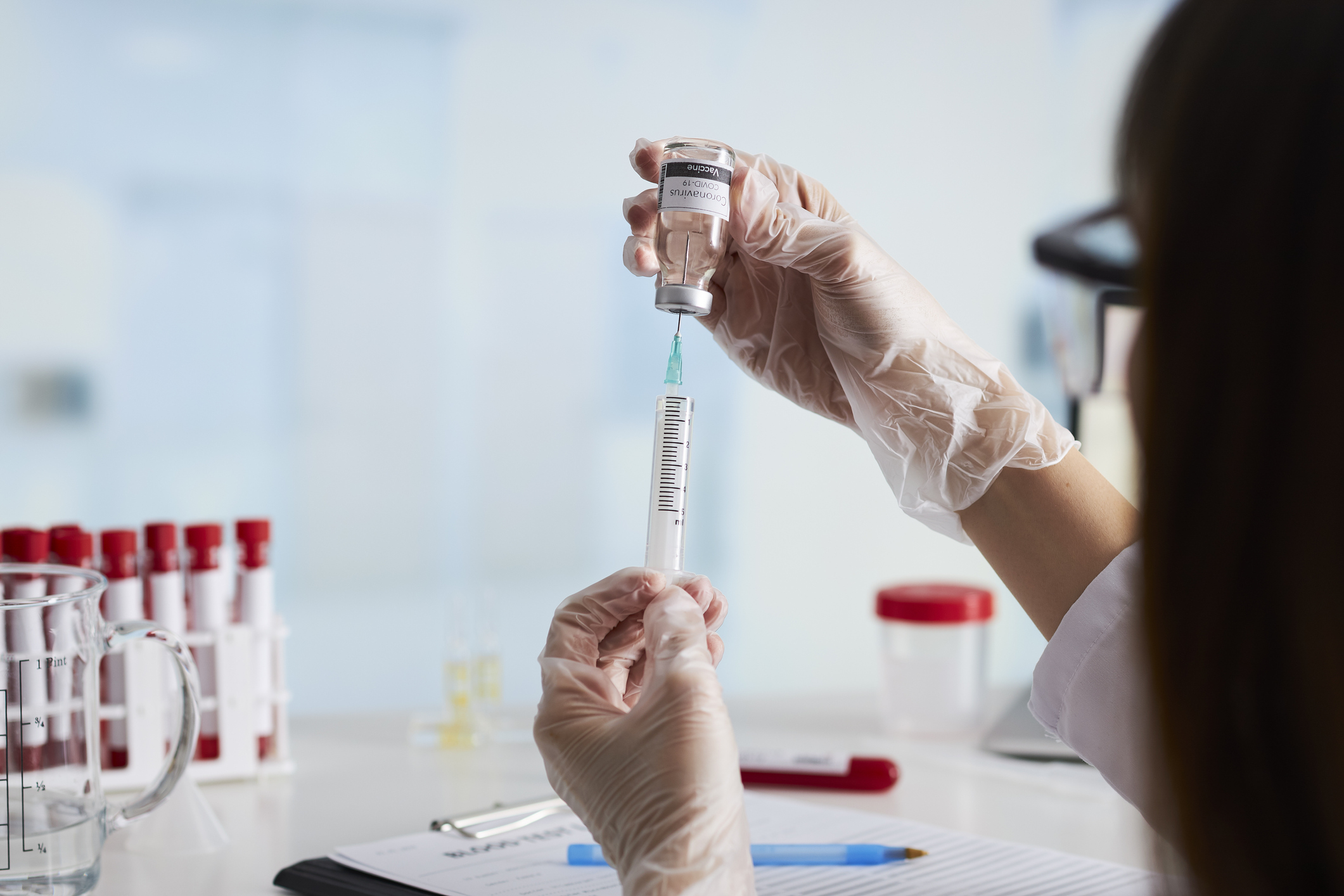 The development of an effective vaccine for COVID-19 is a global public health challenge. The race is on for scientists to find a vaccine that is effective and safe, and readily available to billions of people.
NPS MedicineWise would like to thank the NCIRS for their review of this content.
UPDATE 16 October 2020
On 13 October 2020, Johnson & Johnson announced it had temporarily paused its COVID-19 vaccine candidate clinical trials due to an unexplained illness in a study participant. The pause includes the large-scale Phase III ENSEMBLE trial launched on 23 September 2020 with a plan to enrol up to 60,000 volunteer participants. The ENSEMBLE trial is now being reviewed by an independent data safety monitoring board as well as internal clinical and safety teams.
Read the announcement from the sponsor here.
Is there a COVID-19 vaccine?
No. At the time of publishing there is no publicly available vaccine to prevent COVID-19. But, like the pandemic, vaccine development is a rapidly evolving situation. Research groups across the globe are working hard to develop potential vaccines to prevent COVID-19.
But ensuring COVID-19 vaccines are safe and effective will take time. Some researchers are expecting a vaccine to be available in early 2021. However, experts say these expectations are 'optimistic', warning there is still a long way to go before any vaccine is distributed to the public.1
The number of COVID-19 vaccines in development and being trialled is constantly changing. A snapshot of the vaccine landscape is available on the NCIRS website, with a more in depth summary of trials available through the WHO.
Why is it taking so long?
Typically, vaccine development takes about 10 years.2 This is because vaccines must pass a series of pre-clinical studies (usually laboratory based), clinical trials in humans, and approval processes before they become available for use.
The steps of the clinical trial process are known as phases. Any vaccine in development must progress through each testing phase to make sure it is safe and effective.3
Usually the different phases can take months, years or even longer. But due to the urgency of finding a vaccine to prevent SARS-CoV-2 (the virus that causes COVID-19), this process is being fast-tracked.
What happens in each phase of a clinical trial?
Phase I clinical trials are done to test a medicine – in this case a vaccine – for the first time in a small group of people – usually a few dozen healthy volunteers.
A phase I trial works out if the vaccine is safe by evaluating how the human body reacts to the vaccine and observing for any side effects.
Phase II trials usually involve a few hundred people and provide information about how well the vaccine works (efficacy) as well as further information about the safest dose range.
Phase III trials usually involve a few thousand people, testing the efficacy and safety in a larger group.
Before a clinical trial can move to Phase IV, a government regulatory body examines the Phase III results and decides whether to approve the vaccine for use in the general population. In Australia, approval is given by the Therapeutic Goods Administration (TGA).
Phase IV clinical trials are conducted after the product has been approved and involve gathering information about efficacy and safety in the general population.4,5
Are there any COVID-19 vaccines being developed in Australia?
At the time of writing there are four COVID-19 vaccines with Australian involvement being tested in human clinical trials. All are protein-based vaccines.3
Two vaccines (Phase I) are being developed and trialled in Australia.3
Covax-19 at Flinders University with trials at Royal Adelaide Hospital6
UQ-CSL V451 at the University of Queensland.7
Another two vaccines are being trialled in Australia but were developed overseas:3
SCB-2019, developed in China (Phase I)
NVX-CoV2373, developed in the United States (Phase I/II)
Are there any COVID-19 vaccines in Phase III?
Not all vaccines that enter the early phases of a clinical trial will progress to Phase II/III or make it to 'market' ie, be approved for public sale and distribution.4
The race to find a COVID-19 vaccine means clinical trials are progressing more quickly than usual.
In September 2020 there were around 180 COVID-19 vaccines in development globally, with 35 vaccines at the clinical trial stage.8
Of these, only eight COVID-19 vaccines were in Phase III.8
Will Australians have access to these vaccines?
Two vaccine candidates are of particular interest to Australia.
The first is a vaccine being developed by Oxford University in the UK, in collaboration with pharmaceutical company AstraZeneca and manufacturing company CSL.9
The second is being developed by the University of Queensland with CSL preparing to manufacture 51 million doses of the vaccine (V451) for the Australian public by mid-2021.7,10
In July 2020, Oxford University researchers reported promising results in their Phase I/II trials. Results from over 1000 healthy volunteers indicated there were no early safety concerns and the volunteers produced a strong immune response to the SARS-CoV-2 virus.11,12
On 7 September 2020, the Australian government announced an agreement with Oxford University and AstraZeneca for early access to their vaccine (AZD1222),10 promising that Australians could be among the first in the world to receive a COVID-19 vaccine.9 The agreement was for the expected manufacture of 30 million doses.9,10
I read that one of the trials was paused. What's happening now?
On 9 September 2020, AstraZeneca announced it had 'voluntarily paused' the Phase III clinical trial to allow a review of a 'potentially unexplained illness' one study participant had suffered.13,14
Pausing a clinical trial to investigate potential side effects is a relatively common occurrence. The volume of media attention this pause generated highlights the speed at which research and development is travelling and the urgency of government efforts to secure vaccines for our population.
The Oxford University vaccine trial has now resumed. On 12 September 2020, AstraZeneca reported that the COVID-19 vaccine (AZD1222) trials had resumed in the UK, following confirmation by the Medicines Health Regulatory Authority (MHRA) that it was safe to do so.15
How much will it cost to vaccinate everyone?
It is estimated that the cost of vaccinating all 25 million Australians against COVID-19 will be between $125 million and $5 billion a year.16
In a $1.7 billion supply and production agreement between the Australian government and pharmaceutical companies AstraZeneca and CSL, a free COVID-19 vaccine is expected to be available in 2021 in Australia.9
Will a vaccine offer immunity to COVID-19?
Vaccines stimulate the body's natural defences to strengthen the immune system response to a condition or illness.17
Vaccines use inactivated or severely weakened pathogens such as viruses or bacteria to trick the immune system into producing antibodies. Viral vaccines help your body fight off viruses. After receiving a viral vaccine, the body's immune system recognises and remembers the virus.17

Then, if a person is exposed to the virus later on, their immune system can fight off an infection much more effectively because it has already produced antibodies to that virus.17,18
Viral vaccines can work in two ways. In some instances, they can prevent infection.
At other times, people can still become infected with the virus, but the antibodies produced as a result of the vaccine can significantly reduce the severity of symptoms and stop people from getting very sick.17,18
It is important to note that not all vaccines provide long-lasting immunity. Protection against a virus can decrease over time. This is why booster doses are needed in some circumstances, such as with the tetanus vaccine.19
If and when an effective vaccine for COVID-19 is found, booster doses may be needed to ensure people keep their immune memory and their immune systems remember how to fight the SARS-CoV-2 virus for as long as possible.20
Why is there more than one COVID-19 vaccine?
Even though COVID-19 vaccines are being developed to guard against the same virus (SARS-CoV-2), they are not all the same.
Different research groups have different methods for researching and developing vaccines.
Some research groups are focusing on the whole SARS-CoV-2 virus, while other groups are concentrating on the proteins that are produced by the virus.21
There are several methods – also known as technologies or platforms – used to develop viral vaccines.
In the race to develop a COVID-19 vaccine, the commonly used methods include:19,22
Other methods being used to develop COVID-19 vaccines include viral vector and nucleic acid (RNA or DNA). These methods are not as well-established as those using the whole virus or viral proteins but many research groups are looking into their potential.3,8
You can find out more about vaccine platforms on the National Centre for Immunisation Research and Surveillance (NCIRS) website.
Is it safe to test the COVID-19 vaccine on people?
All vaccines, including COVID-19 vaccines, are rigorously tested in human clinical trials to confirm they are safe and effective before they can be used.25
When it comes to testing COVID-19 vaccines, it's important to emphasise that the people who are involved in the clinical trials:
are mostly healthy volunteers (although some may have other health conditions not related to COVID-19)
are not intentionally infected with COVID-19 to test if the vaccines work.
Viral vaccines use inactivated or severely weakened viruses, or parts of viruses that trick the immune system into producing antibodies.17 In this case, it is expected that the person who is receiving the COVID-19 vaccine will produce antibodies to the SARS-CoV-2 virus.
All volunteers must undergo a thorough health assessment before they can be included in a clinical trial.
As with any medicine, vaccines may cause side effects, and these are closely monitored throughout all phases of the clinical trials.4
Will the COVID-19 vaccine be safe for all ages?
Vaccines are initially tested in young, healthy adults, before being tested on more vulnerable people, such as children, older adults and pregnant women.
Vaccine trials in children usually occur in a stepwise process referred to as age de-escalation, starting with adolescents and older children, followed by younger children, and finally, babies.
This allows us to gather important age-specific information about the safety and efficacy of a vaccine in different age groups.
Trials in healthy volunteers will give us confidence that the vaccine is safe for use in the larger general population.
How will I know if I'm allergic to the COVID-19 vaccine?
Severe allergic reactions (anaphylaxis) to vaccines are very rare.26 Doctors and nurses who administer vaccinations are trained to recognise and manage any immediate, severe reactions.27
If anaphylaxis does occur, it is generally within the first 15 to 20 minutes after receiving a vaccine, so it is important for people to wait at the place they get their vaccination so they can be observed for any reaction.27
Most vaccines do not contain food allergens such as dairy products, peanut, tree nuts, wheat, soy, seeds or seafood.26
Allergic reactions to vaccines are more often caused by vaccine components such as gelatin or egg protein, yeast, or the latex parts of vial lids, or syringe plungers rather than the actual vaccine.28
Before any vaccine is given, a safety checklist is performed with the patient to make sure they do not have any allergies to components of the vaccine.
What are the possible side effects of vaccination?
Generally, side effects from vaccination are usually mild and short lasting and do not need special treatment.
Common reactions to vaccination can include:27
injection site reactions such as local pain, redness and swelling
mild temperature or fever
irritability
decreased appetite
sleepiness
vomiting and diarrhoea
light headedness or fainting (uncommon, but this can occur before or after vaccination).
Do I still need to get the flu vaccination?
Yes. While the influenza vaccination won't protect you against COVID-19 it will reduce your risk of the flu. Getting the flu vaccine will help to provide greater individual and community health protection throughout the COVID-19 pandemic.29
In Australia, complications from influenza lead to thousands of hospitalisations and many deaths every year.
If a person catches COVID-19 on top of the flu, it is likely they will become severely sick or die, especially if they are elderly or their immune system is weaker.
Having the flu vaccination will help to protect vulnerable people from getting the flu. And reducing hospitalisations from the flu will ease pressure on the health system so health workers can focus on people who present with COVID-19.29
Will a COVID-19 vaccine mean no more physical distancing or handwashing?
If and when a COVID-19 vaccine is available to the general public, it is unlikely to be the 'silver bullet' everyone is hoping it might be.16
We don't know if everyone will respond the same way to a vaccine, whether they will experience side effects or have long lasting immunity to COVID-19.
Physical (social) distancing, regular handwashing, choosing to wear a mask in public and travel restrictions may be here to stay.16
Where can I learn more?
Find out more about vaccines
The National Centre for Immunisation Research and Surveillance (NCIRS) is closely monitoring information on COVID-19 vaccine candidates and updates this information weekly. Visit NCIRS COVID-19 vaccine development landscape.

Register for a vaccine trial
If you are healthy and interested in taking part in a vaccine trial you can find out more at NCIRS: Upcoming COVID-19 vaccine trials