ISSUE 5 OCTOBER
Article
Migraine management
Aust Prescr 2020;43:148-51
1 October 2020
SUMMARY
Migraine causes significant lost time from everyday activities. Addressing lifestyle triggers and comorbidities in patients with migraine is the first step of management.
Acute migraine treatments primarily manage the headache component and should be started as early as possible in the migraine attack.
Prophylaxis may be recommended if a patient is having three or more migraines a month or if their migraines are difficult to manage.
The choice of prophylactic drugs should be tailored to the individual's potential for adverse effects, interactions and comorbidities.
Introduction
Migraine is more than just a headache – it has associated features including sensitivity to light or noise, nausea and avoidance of exertion. The headache is typically throbbing and severe. As such, migraine is debilitating and is the leading cause of disability in people under 50 years old.1
Pathophysiology
Migraine is a common, polygenetic brain disorder with complex biology. The vascular reactivity of aura is now considered to be a secondary symptom that occurs alongside migraine. There is convergence of peripheral trigeminal sensory nerves on the single pain centre of the trigeminocervical complex. The central mechanisms include neurotransmitter pathways such as serotonin, calcitonin gene-related peptide and other neuropeptides.2
Assessing the patient
To distinguish migraine from other causes of headache, ask the patient about the character and location of the headache as well as associated features and avoidance of exertion. Differentiating between episodic and chronic migraine is an arbitrary but useful cut off for some treatment options (see Fig.). In clinical practice, patients highlight their worst migraines. To ascertain the true frequency of headaches, enquire about the number of completely headache-free days per week or month.
Fig. - Principles of migraine management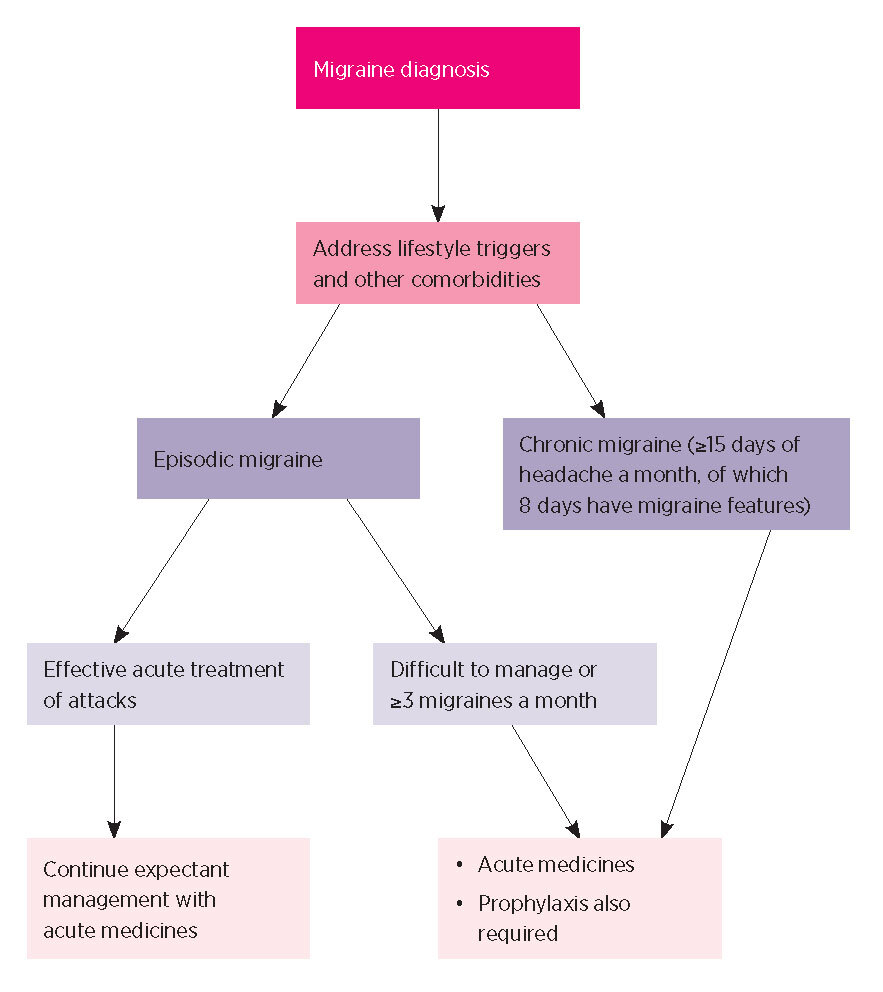 Management approach
Addressing lifestyle triggers and comorbidities in patients with migraine can be particularly beneficial for patients. Sleep disorders, dietary triggers (e.g. some types of alcohol, cheese, oranges and chocolate), dehydration and caffeine overuse are important to recognise and manage. Healthy body weight and exercise are recommended. Depending on the individual triggers, behavioural and psychological strategies and physical therapy can help some patients. Commonly used natural migraine preventives include magnesium, riboflavin, coenzyme Q-10, and Feverfew. These have limited and variable levels of evidence for efficacy and are not the mainstay of treatment.3,4
Conclusion
Migraine management starts with a correct diagnosis. Treatment of acute attacks requires early and effective medicines. If simple analgesics are inadequate, triptan drugs may be more effective.
Preventive strategies to reduce migraine attacks include lifestyle modifications, management of comorbidities, behavioural and physical therapies, and pharmacological treatments. The choice of prophylactic medicines is guided by potential interactions, adverse effects and patient comorbidities. Novel preventive therapies such as the anti-CGRP monoclonal antibodies are targeted therapies to consider.
Managing migraine with acute and preventive strategies for those significantly affected can reduce the disability and loss of function caused by this disease.
Bronwyn Jenkins has received fees for education and advisory boards from Allergan, Lilly, Novartis and Teva.
Bronwyn Jenkins
Neurologist, North Shore Vertigo and Neurology Clinic, and Royal North Shore Hospital, Sydney