Episode 34
Medical management of metastatic prostate cancer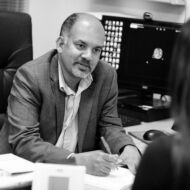 Jo Cheah interviews Dr Ganes Pranavan about metastatic prostate cancer – how, with the right combination of treatments, it has become a chronic disease. Read the full article in Australian Prescriber.
Transcript
Welcome to the Australian Prescriber podcast. Australian Prescriber, independent, peer reviewed and free.
Hi there, I'm Jo Cheah your host for this episode of the Australian Prescriber podcast. Joining us today is Dr Ganes Pranavan who is a staff specialist at the Department of Medical Oncology at Canberra Hospital. Dr Pranavan and a team of authors have written the article 'Medical management of metastatic prostate cancer' which you can read in the October edition of the Australian Prescriber. GP, welcome and thanks for taking the time to speak with me today.
Thank you, Jo.
So GP, let's get started. Firstly, can you tell us a little bit about metastatic prostate cancer. Are there different types of prostate cancer?
The prostate cancer is divided into two main categories – early prostate cancer and advanced prostate cancer. The treatment for early prostate cancer is with the curative intent with radiotherapy and surgery, whereas the metastatic prostate cancer is a terminal disease but can be controlled for years these days. If the metastatic prostate cancer is again divided into two categories of hormone-sensitive disease and castration-resistant disease.
Alright, so to follow on from that introduction, your article outlines a variety of treatments such as oral or intravenous medications, radiation and surgery. So, you mentioned surgical and medical castration. Could you actually explain what these terms mean?
So, the main treatment for prostate cancers is androgen deprivation therapy, where you cause male menopause. In the past people do have surgical castration or orchidectomies. That's a way to achieve complete testosterone inhibition. These days we use medical castration for many reasons as surgery can cause a psychological impact, so currently we don't do surgical or orchidectomy. Most patients go on to medical castration with androgen deprivation therapy. The commonest implants are a GnRH analogue such as goserelin or leuprorelin, commonly called Zoladex or Lucrin, or the new antagonists such as the degarelix or Firmagon. Some of them can be given as a monthly injection through a GP and some of them can be given as three-monthly or even four-monthly preparations.
So, if a case is considered metastatic castration-resistant, what are the current treatments available and the timing of when you would start them?
Sure. I would go through the treatment for both hormone-sensitive and hormone-resistant or castration-resistant cancer. The initial phase is when the prostate cancer responds to androgen deprivation therapy called metastatic hormone sensitive prostate cancer. After a while the cancer develops resistance to androgen deprivation therapy and they start progressing on androgen deprivation therapy then they are termed metastatic castrate-resistant prostate cancer. In addition to the ongoing androgen therapy the main drugs the docetaxel, cabazitaxel, abiraterone tablets, enzalutamide tablets and radium-223, and these drugs have shown to improve the survival significantly. The four drugs are available in Australia through the PBS scheme, however the radium-223 is not PBS-reimbursed. There were some new studies done the last 2–3 years looking at docetaxel chemotherapy being introduced at early stage in the hormone-sensitive phase and a significant benefit of survival, at least more than 14 months, but only in patients with high-volume disease.
So given that androgen deprivation therapy is the backbone of treatment, and you said that it's lifelong, is it something that needs to be given at a set frequency or in your article you mentioned intermittent therapy?
We would look at intermittent androgen deprivation therapy in patients with non-metastatic disease with biochemical relapse, and that's shown to be non-inferior to the continuous dosing. In metastatic disease we do not normally use intermittent androgen blockade however in a subpopulation of patients such as elderly patients or patient with comorbidities or people who have got low-volume disease there is definitely a role for intermittent androgen blockade therapy.
Okay, so according to your article you've mentioned metastatic castrate-resistant prostate cancer is now considered a chronic illness. So how can GPs, specialists and pharmacists in the community work together to support the patients and is there anything that we should be looking at, for example serious drug reactions or symptoms of progression?
Prostate cancer has truly become a chronic disease now, for someone with a metastatic prostate cancer the life expectancy would be more than five years. GPs do see these patients quite often, from either symptoms later in the cancer progression or from the side effects. Supportive care can be again divided into two main areas. One is looking at supportive care for cancer-related symptoms such as pain and fatigue so patient with pain related to the bone metastases they need to have enough adequate painkillers so there are many other symptoms could be from the cancer progression such as a decreased mobility or leg swelling. The other area would be supportive care for cancer treatment related symptoms, for example androgen deprivation therapy can cause worsening bone health, loss of libido so it's very appropriate to counsel these patients at a very early stage. If they've got issues with bone health, we generally do a baseline bone density scan and then we do a bone density scan every year. There's also a role for bisphosphonates in patient with bony metastatic disease in castration-resistant disease. Bisphosphonates and denosumab both have shown to decrease the risk of fractures and address cancer-related events. It's very normal to see these patients with side effects related to this cytotoxic chemotherapy or these anti-androgens, for example patients on abiraterone or enzalutamide have less side effects compared to docetaxel chemotherapy or other cytotoxic, and even they can have side effects such as tiredness, leg swelling. Abiraterone can cause issues like hypokalaemia, low potassium. It's very important for the GPs to know the common side effects of these drugs. Chemotherapy as we know causes febrile neutropenia or increase the risk of infections.
Yes, so it's really important for GPs and even community pharmacists who may be involved in dispensing their medications to be aware of some of those side effects that you mentioned. In our day unit at my workplace the ward pharmacist also tries to get involved and asks the patient about their mouth health and we're reviewing blood tests as well, so we do understand how important it is to be looking at those sorts of things. So what sorts of drugs or regimens are you currently seeing in clinical trials and are you anticipating any big changes to therapy in the next say 5 to 10 years?
The newer drugs like immune therapies and PARP inhibitors do have a role in prostate cancer. There are studies going in many of the states looking at a combination of immune therapy with taxol-based chemotherapy or other cytotoxic drugs, or PARP inhibitors and chemotherapies or immune therapy and new anti-androgens.
That's good. I'm excited to see what happens in the next five to ten years in that space. So, GP, that's all the time that we have for today. It's been a pleasure having you on the program.
Thanks Jo. Nice talking to you.
[Music]
The views of the host and their guest on the podcast are their own and may not represent Australian Prescriber or NPS MedicineWise. I'm Jo Cheah and thanks for listening.