World Antibiotic Awareness Week 2019
It's time to take antibiotic resistance seriously
About the week
Antibiotic resistance is a serious worldwide problem, and it's happening in Australia. The World Health Organization has warned that antibiotic resistance is one of the greatest threats to human health today.
But we can help preserve the effectiveness of antibiotics by being part of the solution. There are simple actions individuals can take to help stop the spread of antibiotic-resistant infections.
World Antibiotic Awareness Week is an annual event that raises awareness about the serious health issue of antibiotic resistance and encourages people across the globe to handle antibiotics with care.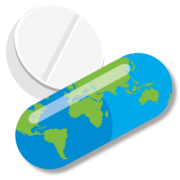 This World Antibiotic Awareness Week, NPS MedicineWise has an urgent message to all Australians: It's time to take antibiotic resistance seriously. During this week we'll be highlighting the serious issue of antibiotic resistance and empowering health professionals and the community to be part of the solution

We all have a part to play in helping to preserve the power of antibiotics. And there are simple steps you can take now to prevent antibiotic resistance. 
Take part in a global conversation on social media
This year during World Antibiotic Awareness Week, a global conversation will be held on social media using the hashtag #AntibioticResistance.
Videos, messages and other resources will be shared by NPS MedicineWise on Twitter, Facebook and LinkedIn. Be sure to follow us, share our posts and join the conversation at any time throughout the week to learn more about the problem of antibiotic resistance and appropriate use of antibiotics.
Find out more about antibiotic resistance
Antibiotic resistance is an issue for health professionals and for the wider community. Find out more about training, research and new initiatives in this field, as well as resources for patients and communities.
Health professional resources and information
Information for consumers