MedicineInsight application process
MedicineInsight collects and uses data on the prescribing behaviour of general practitioners in Australia.
How do I get access to MedicineInsight data or reports?
An overview of the process for accessing MedicineInsight data or reports is shown below. A member of the Client Relations team will work with you to facilitate access to the most appropriate MedicineInsight data products in a timely fashion.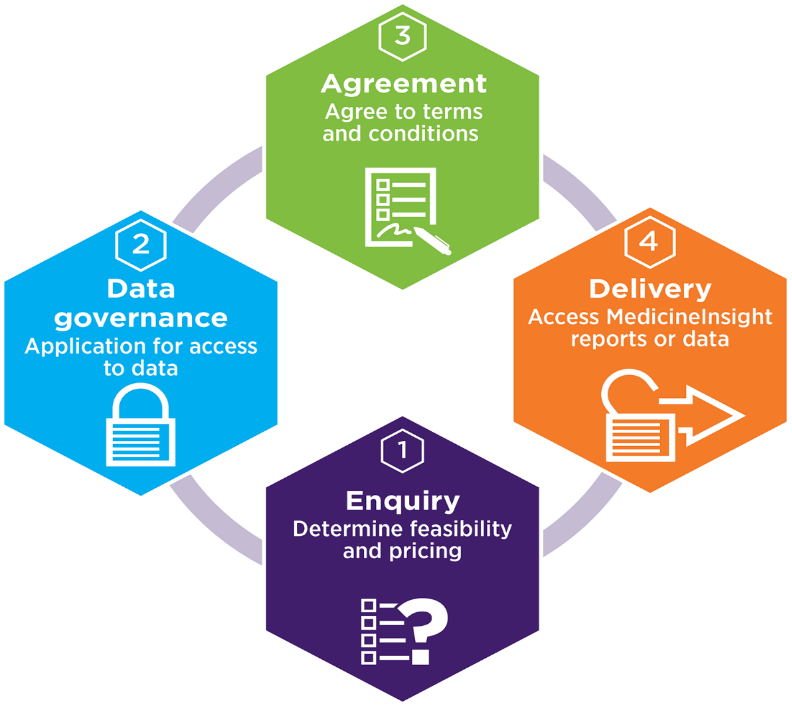 The first step to getting access to MedicineInsight data is to complete the Data Access Enquiry Form, available in the Research Kit. This form will help us understand your project and whether the data available in MedicineInsight can potentially answer your research questions.
For help completing the form, please email [email protected]
How much will access to the MedicineInsight data cost?
The cost of access to MedicineInsight data or a report will vary depending on what you request. Once the Client Relations team has an understanding of your request and your budget, we will discuss the options available. We are also able to provide a formal proposal or quotation for submitting as part of an application for research funding.

Once feasibility and price are determined and agreed, the next step is the formal governance approval process for access to MedicineInsight data.