Osteoporosis: recognising those at risk
Osteoporosis is under-recognised and undertreated. Find out about clinical risk factors that impact fracture risk, and how you can help patients minimise their risk of fracture.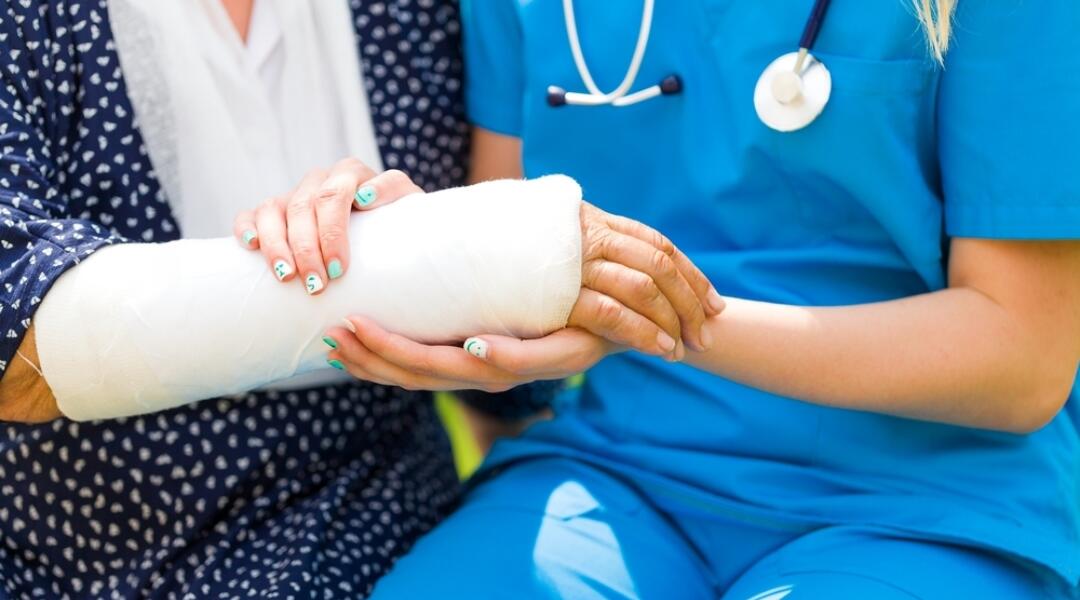 Key points
General practice has an important role to play in preventing the health burden associated with fractures.

Many people at high risk of osteoporotic fractures are not identified. Moreover many of these patients remain untreated, even after presenting with a minimal trauma fracture.

Initiate medicines in patients with a minimal trauma fracture or at higher risk of fracture to prevent future fractures.

Address issues with adherence to osteoporosis medicines and promote a healthy lifestyle that addresses modifiable risk factors for osteoporosis.

Minimal trauma fracture increases the risk of future fractures
Following an initial minimal trauma fracture, the risk of repeat fractures is doubled.4,7 This is in addition to the increased risk associated with low bone mineral density (BMD).4 (Read about all the risk factors for fracture below.)
Higher 5-year mortality rates following repeat fractures
A study found that following an initial minimal trauma fracture, women and men with repeat fractures had higher 5-year mortality rates (39% and 51%, respectively) than people with no repeat fractures (26% and 37%, respectively).8
The risk of minimal trauma fracture, particularly hip fracture, increases steeply in older women and men.2,9,10 Highest absolute fracture risk (10% or worse in 3 years) is seen for postmenopausal women and men aged ≥ 70 years with T-scorea < –2.5 (in absence of fracture).2
A minimal trauma fracture is sufficient for a presumptive diagnosis of osteoporosis. Treatment with osteoporosis medicines can start prior to obtaining BMD results with dual energy X-ray absorptiometry (DXA).1,2,11-15
a T-score is the number of standard deviations from a young adult reference mean.
Clinical risk factors and their impact on fracture risk
Risk factors should be assessed16,17 and modifiable risk factors addressed1,2,10,18 in all postmenopausal women aged ≥ 45 years and men aged ≥ 50 years.16,17
A full diagnostic investigation is indicated for:2,17
Fracture risk increases with decreasing BMD, which is a well-known age-dependent risk factor.16,19 Other clinical risk factors (CRFs) further raise a person's risk of fracture (Figure 1).20-22 This means a 60-year-old man with a T-score of –1.0 and 4–6 risk factors would have a higher 10-year probability of hip fracture than a 70-year-old man with the same T-score and no risk factors other than age (Figure 1).
When assessing an individual's absolute fracture risk, the relative contribution of these other clinical risk factors needs to be considered.20
Online absolute fracture risk calculators, such as FRAX20,22,23 and Garvan Fracture Risk Calculator,23-25 can assist when discussing fracture risk with patients.
Clinical risk factors in Figure 1 include:
previous minimal trauma fracture
alcohol intake ≥ 3 units /day
parental history of hip fracture.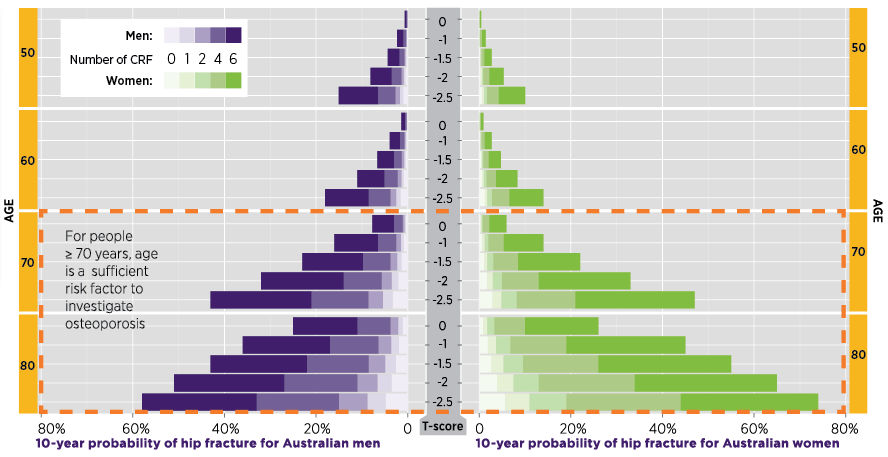 Notes
b PBS defines vertebral fracture as ≥ 20% reduction in the height of the anterior or mid portion of a vertebral body relative to the posterior height of that body or ≥ 20% reduction in any of these heights compared to the vertebral body above or below the affected vertebral body.
c Defined as > 7.5 mg/day of prednisolone or equivalent for > 3 months. MBS subsidy applies only for patients taking this dose for at least 4 months.
d In people aged > 70 years, age is a sufficient risk factor to prompt BMD testing by DXA.
BMD testing by DXA is the gold standard for an osteoporosis diagnosis
DXA scanning is recommended for women aged > 50 years and men aged > 60 years with multiple risk factors for osteoporosis.1,2,26
DXA is the gold standard in Australia for obtaining BMD measures and can assist with diagnosis, monitoring and treatment decisions, and communicating these with patients.27
The WHO criteria utilising T-scores can be used to diagnose osteopenia and osteoporosis (Figure 2).1 Z-scoree is useful for evaluating bone loss in patients aged < 50 years.1,26 Actual BMD (g/cm2) is required for monitoring BMD changes over time.1,28

Diagnosis should exclude secondary causes
Identify and treat underlying causes for osteoporosis or other medical conditions such as multiple myeloma and metabolic bone disease (eg, osteomalacia, renal bone disease) that may closely simulate osteoporosis.1,2
Laboratory tests are indicated after a minimal trauma fracture, if a patient's medical history or examination suggests secondary causes, or if a patient's Z-score < –2.0.2
e Z-score is the number of standard deviations from an age- and sex-matched reference mean.
Expert reviewers
Associate Professor Vasi Naganathan, Centre for Education and Research on Ageing, University of Sydney. Ageing and Alzheimer's Institute, Concord Hospital, Sydney, NSW.

Dr Simon Vanlint, General Practitioner and Clinical Senior Lecturer, University of Adelaide, Adelaide, SA.