The value of spirometry in clinical practice
Spirometry measures airflow into and out of the lungs and is used in the diagnosis of COPD and asthma. It is underused in Australian medical practice. Find out more about spirometry.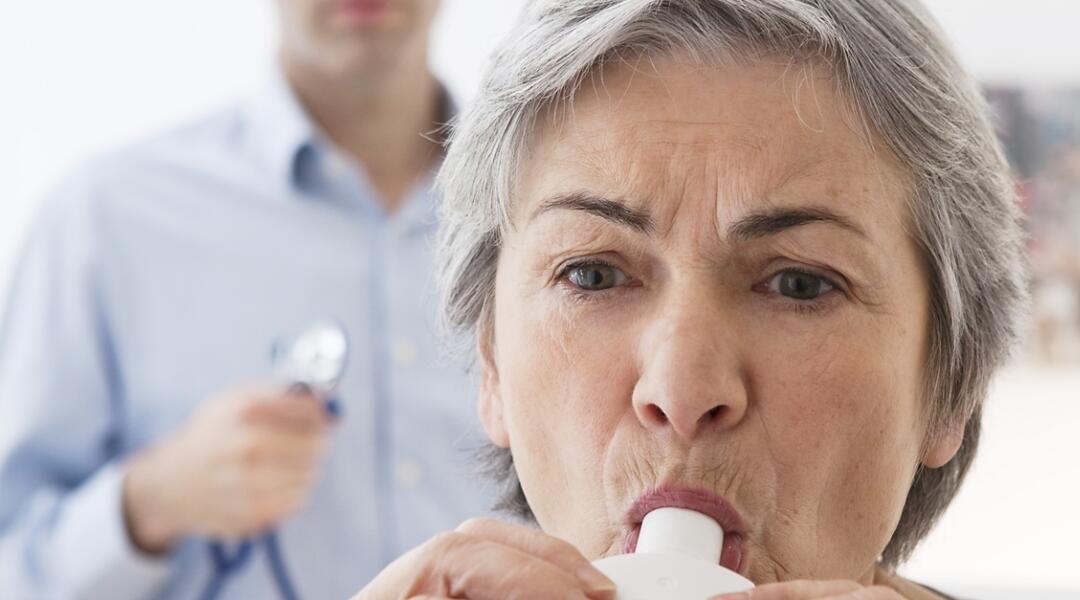 Key points
Confirm a diagnosis of COPD with spirometry.
Use spirometry to help ensure appropriate prescription of medicines.
Consider involving trained allied health professionals to perform quality spirometry, reduce GP workloads and manage workflow.
Maintain competence in knowledge and skills to perform spirometry via educational programs.
Use local respiratory laboratories if no spirometry is available on site.
Spirometry – the right tool for the job
Spirometry is the best standardised, most reproducible and most objective measurement of airflow limitation required for diagnosing COPD and is the gold standard for diagnosing fixed airway obstruction.1,2
Spirometry used with physical examination and history taking improves diagnostic accuracy of COPD compared with clinical examination alone.3,4
Yet local and international primary care studies show that spirometry is vastly underutilised.5-12 In an Australian study, 56% of patients with a symptom-based diagnosis of COPD were found to have normal lung function after spirometry.11
In a large Australian population survey (45 and Up 2001–2014) most study participants (82%) started on medicines for chronic airways disease had not had lung function testing performed within 12 months, either before or after their initial prescription.13
Furthermore, misdiagnosis is common; as many as 20% to 38% of patients older than 40 years who are diagnosed by history and physical examination as having asthma actually have COPD.14,15 Conversely, many patients in primary care are diagnosed as having COPD when they in fact have asthma.16 An important consequence of this has been the inappropriate prescribing of inhaled corticosteroids at a global level.16-19
COPD diagnosis – why early?
Early detection of airflow limitation and early intervention can delay lung function decline, reduce the burden of COPD symptoms, reduce the risk of exacerbations and improve patients' quality of life.20,21

Spirometry in practice – overcoming challenges
There are several reasons for the underuse of spirometry, including time constraints, staffing issues, equipment quality and control, inadequate training and lack of confidence in interpreting data.22,23
Best practice requires that patients having spirometry prepare appropriately for the test.24
For patients returning for spirometry (having prepared), a long consultation is likely to be required to perform pre- and post-bronchodilator spirometry.
The person performing spirometry needs to be adequately trained from an appropriate spirometry course designed specifically for test performance.25
For GP practices without a spirometer, the options available in your area may include a respiratory laboratory, respiratory physician or pathology collection centre.
A list of respiratory laboratories accredited by the Thoracic Society of Australia and New Zealand can be found on the TSANZ website, and by the Australian and New Zealand Society of Respiratory Science on the ANZSRS website.
Resources to aid interpretation of results can be found at:
Getting the best results
Tests of acceptable quality are required for correct diagnosis.
Ensure patients are given test preparation instructions in advance. This includes providing information on withholding periods for bronchodilator medicines. A period of 24 hours before a spirometry test is optimal for patients who smoke to stop smoking or to start withholding once-daily bronchodilators when necessary. Non-smokers and those not on inhaled medicines may need less time.
Download a copy of the NPS MedicineWise fact sheet Getting ready for spirometry below.
Instruct patients about proper test performance. Acceptable test quality requires optimal patient performance, which in turn requires adequate coaching from the health professional performing the test.
Use demonstrational videos showing correct technique. The spirometry technique video Performing spirometry in primary care can be found on the National Asthma Council website. (This video shows pre-bronchodilator technique only.)
Assess for acceptability and repeatability of test results according to international guidelines.27 Examples of acceptable volume–time and corresponding flow–volume curves can be found in the resources listed below.
Guidelines and instructions can be found in the Queensland Health Spirometry Guideline.
Alternatively, the Spirometry Handbook can be downloaded free from National Asthma Council Australia.
An easy reference guide for correcting test errors is available online.
When selecting a spirometer, consider factors such as:28
ease of use
accuracy (can it be calibrated or accurately validated?)
whether it meets ATS/ERSa spirometer performance criteria27
other features (including real-time graphic display, print-out capability, compatibility with clinical software).
The Spirometry Users and Buyers Guide can be downloaded free from National Asthma Council Australia. The guide provides important information about types of spirometers as well as how the test is performed and interpreted.
a American Thoracic Society/European Respiratory Society
Spirometry requires training and experience
Accuracy and reliability of primary care spirometry depends on skills, training, and quality assurance.29
One of the most common problems in spirometry interpretation is attempting to evaluate a poor-quality test result.30
Having dedicated trained staff performing the spirometry is a good option.30 This can address time barriers for busy GPs, improve the quality of testing, and enhance teamwork to improve efficiency and delivery of care.
Although training is key to obtaining quality spirometry, testing experience is equally important.
31
Having a dedicated member of a practice performing spirometry may address the issue of increasing testing experience in addition to other benefits.
Spirometry training can overcome uncertainty about performance and interpretation of spirometry results.32,33 Education also leads to enhanced patient care and better patient communication.34
National spirometry training competency standards describing the skills and knowledge required for test preparation, completion and reporting are available for health workers performing spirometry.
The Australian and New Zealand Society of Respiratory Science (ANZSRS) and Thoracic Society of Australia and New Zealand list the requirements for quality spirometry training in their position paper. These include:
a course of 10 hours' duration, with a practical component delivered face to face, or
shortened courses of 4 hours specifically for interpretation of test results for GPs, and
attendance at refresher courses every 3 years.
Spirometry training coursesb are offered by:
National Asthma Council
Asthma Australia
Asthma Foundation South Australia
The Lung Health Promotion Centre
Queensland Health
Indigenous Respiratory Outreach Care (IROC) Program
Spirometry Training Professionals.

A list of registered training organisations offering spirometry can be found on the Australian Government Department of Education and Training website.
b Courses may be face-to-face or online, and vary in duration, cost and accreditation status.
Spirometry is a reimbursable procedure
MBS item 11506 may be used to claim for a service that includes both the pre- and post-bronchodilator spirometry if results are documented in the patient's medical record.
Spirometry enables identification of patients who, with a confirmed diagnosis of COPD, may be eligible for preparation of a general practice management plan (MBS item 721) and a team care arrangement (MBS item 723).
Spirometry should be a part of regular practice, particularly when diagnosing a chronic airways disease
Benefits to health professionals and patients include the following.
Improved access. Having the spirometry in-house acts as a facilitator.30,34 In a recently published Australian study, doctors were more likely to order the tests when they could be performed by the practice nurse, and in-house testing increased patient compliance with testing.34
Early detection. Prompt access to spirometry provides GPs with the information they need to support clinical decisions at the point of care, paving the way for early detection. Early COPD management can reduce hospitalisations through improved preventive care.24
Enhanced diagnostic precision. Given the different treatment strategies, spirometry – in addition to other clinical features – is useful for differentiating between asthma and COPD. An incorrect diagnosis of COPD in a patient with asthma could lead to failure or delay in appropriate anti-inflammatory and other preventive treatments. Conversely, misdiagnosis of asthma in COPD patients could lead to inappropriate treatment with inhaled corticosteroids (ICS). This potentially increases the risk for pneumonia, under-treatment with long-acting bronchodilators, and missed opportunities to refer patients for pulmonary rehabilitation.2,35
Tailoring of treatment according to the level of severity of symptoms. Spirometry can identify patients most likely to benefit from ICS + LABA fixed-dose combinations, reducing the risk of exposure to steroid-induced complications in those who are unlikely to benefit from them.
Increased smoking cessation. Performing a spirometry test and providing information on lung function may increase awareness of the effect of smoking among smokers and help them decide to quit.14,36,37 Smoking cessation can slow the rate of decline in lung function, delay the onset of disability and preserve remaining lung function (ref: COPDX concise guide, page 3).
Reinforce these efforts with your patients by using tools such as 'estimated lung age' using the calculator in the Lung Foundation's Primary Care Respiratory Toolkit.
Enhanced self-management. Discussing the spirometry result with the patient can support self-management education by encouraging treatment adherence and other lifestyle modifications, along with smoking cessation.23
Case study
Breathing room – spirometry with a practice nurse
Practice Nurse Maysel Wright has been in her current job since the start of 2016 and can see up to four patients a day for spirometry. Maysel commented on how the surgery where she is employed overcomes some of the challenges of doing spirometry in general practice.
How do you make spirometry testing efficient and not too time-consuming?
The word that comes to mind is 'flow'. The practice has a dedicated room fully set up for the practice nurses to undertake a range of activities. If any of the GPs have a consultation with a patient whom they think should be tested, the door is open for them to bring the patient straight through for testing, provided they fit the criteria.
After testing has been done I can call the GP back in to the room to talk to the patient about what the test has found. Some of them can then go into the room next to mine for an ECG if one is needed. It's all about flow.
The patients love it – they really appreciate being able to do it all in one place and sometimes in one go. It saves them time and inconvenience and we don't lose them to testing when they walk out the door.
What other factors contribute to the 'flow' and making spirometry an efficient procedure in the practice?
Our spirometer is really easy to use. The practice uses a spirometer that sits here in the nurse's room. It plugs into the computer so the results from each patient are downloaded straight into the practice software and the patient's file. Once I have done the spirometry, the GP comes in and can view the results on the screen.
The spirometer and the disposable mouthpieces are pre-calibrated so you don't have to spend time doing calibration. (The software does allow for calibration checks with a 3 L syringe.) The mouthpieces are disposable so no time needs to be spent on sterilisation.
Who interprets the spirometry?
The spirometer software provides a full list of measurements and results but the doctor who ordered the spirometry does the interpreting. (The spirometer has a feature that lets you turn off interpretation, turn the lung age on and off, and add comments.)
What are the advantages of the way spirometry is done here?
Most patients already know me from having other procedures done here, so there can be a level of trust and familiarity that already exists. Having the nurse do the spirometry is efficient because I do them regularly, I know the routine and how to get the best out of the patients without them getting tense and creating anxiety. I give them a short demonstration of exactly how I want them to do it. Once I get the first good breath from a patient, it can be easy to get them to do it again.
Being a nurse, part of my job is chronic disease management – we have patients of all ages but as many of them are smokers, I understand the issues.
What contributes to the success of the practice?
The doctors and nurses have an excellent supportive working relationship. This makes everyone feel at ease – both the staff and the patients. The doctors also provide mentoring for the nurses to make sure that the spirometry is done well. It really makes a difference to my confidence and the joy I get from my work here. Being responsible for performing the spirometry improves my skills and makes me feel like I have an important role to play.
How does your practice finance the delivery of this service?
Patients are bulk billed for spirometry. There is no extra fee.
Expert reviewer
Prof Bruce Thompson B.App.Sci, CRFS, FANZSRS, PhD
Head Physiology Service, Allergy, Immunology and Respiratory Medicine
The Alfred Hospital Melbourne
Adjunct Professor, Central Clinical School, Monash University