National Medicines Symposium 2020
NPS MedicineWise is hosting our next National Medicines Symposium (NMS) 2020 in Sydney.
NMS 2020 rescheduled until later in the year
In response to the COVID-19 outbreak, and with the safety and well-being of our meeting attendees, presenters, staff and suppliers as our highest priority, we have had to reschedule NMS 2020. The postponed event will still take place as a one-day symposium in Sydney later in the year and we will confirm the new event details within the coming weeks.

Choosing Wisely Australia National Meeting cancelled for 2020
Unfortunately we have had to cancel this year's Choosing Wisely Australia National Meeting.
This was a difficult decision, as the National Meeting is an important component of the Choosing Wisely Australia initiative, however in the circumstances we have made the decision that we are best placed to plan to meet again in 2021. We want to express our support and thanks to all of those from our sector who are responding to COVID-19 and are committed to providing health care to people across Australia.
To find out more about the cancelled Choosing Wisely Australia National Meeting, including details on ticket refunds, go to www.choosingwisely.org.au/nationalmeeting

About NMS 2020
The theme for NMS 2020 is 'Rising to the medication safety challenge'.
A unique cross-disciplinary event, NMS 2020 will bring together the most influential organisations, individuals and decision makers in the health sector to discuss and debate key issues around quality use of medicines and health technologies, and to encourage collective impact with a focus on the needs of the consumer.
In the context of medicine safety being named as a National Health Priority Area and the third WHO Global Patient Safety Challenge: Medication Without Harm, the program will provide the latest content in the medicines and health environment, delivered by acclaimed experts.
Attracting people from all sectors of the health industry, NMS 2020 is a rare opportunity to network, share expertise, ideas and innovations.

Program
NMS 2020 will include plenary sessions, lightning talks, panel discussions and poster displays. These sessions will provide an opportunity for health care professionals working in all fields to present and discuss their work with their peers.
Abstracts are now closed
We invited abstract submissions within the following streams:
Medication without harm
Insights from consumer journeys
Clinical innovation to meet new challenges
Partnerships in health, collaborating for impact
Medicines literacy for all
Find out more about abstracts.
More details about the speakers and the full program will be announced over the coming months.
Registration is open now.
We look forward to welcoming you to Sydney later in 2020.
Coronavirus (COVID-19) update
The safety and wellbeing of our meeting delegates and presenters is of utmost importance.
We are monitoring the situation with coronavirus (COVID-19) and advice provided by the Australian Government Department of Health, and will be responding accordingly.
We will provide further event updates on this web page and via email and social media.
Read more about mitigation measures at our venue Sydney ICC: www.iccsydney.com.au/Special-Pages/Special-Update
Read more about using your regular medicines in the times of novel coronavirus (COVID-19): www.nps.org.au/coronavirus
Key dates
Abstract submissions open: Thursday, 30 January 2020
Earlybird registration opens: Thursday, 13 February 2020
Abstract submissions close: Wednesday, 26 February 2020
NMS 2020: Event rescheduled, new date to be announced soon

Further key dates will be added in the coming weeks.
Registration
Registration for NMS 2020 is now open. We welcome all delegates and look forward to seeing you at the symposium.
There are three different types of registration:
Individual registration
Group registration for multiple delegates from the same organisation
Student registration
Please read all the information on this page before registering.
During the symposium we will have a registration desk on level 2 of the International Convention Centre, Sydney.
What's included
Registration for NMS 2020 includes the following:
attendance at the symposium
a copy of the program
access to the symposium proceedings
morning tea, lunch, and afternoon tea
Registration fees
Registration fees are based on the date of receipt of payment (not the date of registration). All prices are in Australian dollars and include 10% Australian Goods and Services Tax (GST).
| | | |
| --- | --- | --- |
| Registration type | Early registration | Late registration |
| Full registration – NMS 2020 | $250 | $360 |
| Student/unwaged – NMS 2020 | $210 | $210 |
Payment methods
For individual and student registrations, a tax invoice will be automatically emailed to the address supplied upon submission of your registration.
For group registrations, the group coordinator must generate and print a group tax invoice through the group registration portal.
Registration fees can be paid by:
Credit card – MasterCard or Visa. Note that payments will appear as Expert Events on your credit card statement.

We are unable to accept payment by direct debit.
Changes to your registration
You can sign into your registration record using your account email address and password if you need to make changes to your registration. Alternatively, you can request a change in writing by emailing the symposium secretariat at [email protected].
Cancellations and refund policy
Cancellations must be advised in writing to the NMS 2020 secretariat.
Registration cancellations will receive a refund of registration fees, less an administrative charge of $50.
Eligible refunds will be issued after the conclusion of NMS 2020.
Transfer of registration
Registrations are transferable to a colleague at any time prior to the event, provided the NMS 2020 secretariat is advised in writing.
Questions?
Contact the NMS secretariat.


Email: [email protected]
Phone: 07 3848 2100
Post: Expert Events, PO Box 351, Hamilton Central QLD 4007 Australia.
Previous events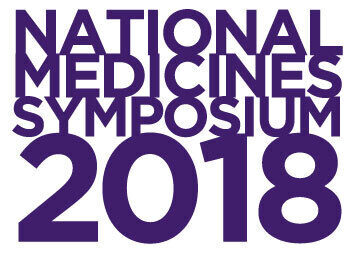 The ninth National Medicines Symposium (NMS) 2018 was held 19–20 May 2018 at the National Convention Centre in Canberra. Thank you to everyone who came and contributed to make NMS 2018 such an excellent experience.